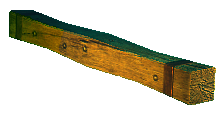 There are non-magical Use Items that can be found throughout the game.
Some of these objects can be moved by various means, for example by pushing, lifting and throwing. Some of them can also be used as weapons and shields. They will be of great assistance to the Three Heroes and can be used in many ingenious ways. They will help the heroes to overcome the many difficulties encountered on their journey through the kingdom.
Ad blocker interference detected!
Wikia is a free-to-use site that makes money from advertising. We have a modified experience for viewers using ad blockers

Wikia is not accessible if you've made further modifications. Remove the custom ad blocker rule(s) and the page will load as expected.