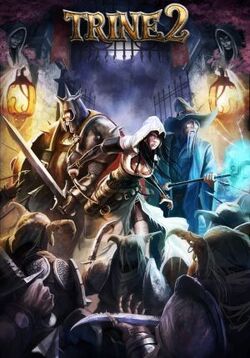 Trine 2 is the sequel to Trine. It is a side-scrolling action platform and puzzle game developed by Frozenbyte. It is available on Windows, MAC OS X, Playstation Network, and Xbox Live. A director's edition was announced at the 2012 E3 convention. The Director's edition will be available through the Wii U's eShop.
Director's Edition
Edit
The director's edition will be coming to the Wii U at launch, it will contain a new mode called Magic Mayhem as well as an expansion pack.
Complete Story Edition
Edit
Trine 2 Complete Story is the full game with all DLCs and a special Dwarven Caverns level wich unlocks after you have completed the game on 100%.
Screenshots
Edit
Ad blocker interference detected!
Wikia is a free-to-use site that makes money from advertising. We have a modified experience for viewers using ad blockers

Wikia is not accessible if you've made further modifications. Remove the custom ad blocker rule(s) and the page will load as expected.