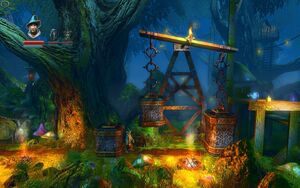 The Puzzle is an obstacle that is often encountered in the game.
There are many different types of Puzzle that need to be solved and negotiated. Most Puzzles involve getting to somewhere or reaching something. Nearly all of the Puzzles have many different solutions or different ways to tackle the problem that needs to be solved. The whole game is really one continuous Puzzle that requires some interesting and challenging problem solving.
It is always best to kill any Enemies in the area before attempting to take on a Puzzle, especially the balancing type.
For a list of other types of obstacle see: Hazards
Ad blocker interference detected!
Wikia is a free-to-use site that makes money from advertising. We have a modified experience for viewers using ad blockers

Wikia is not accessible if you've made further modifications. Remove the custom ad blocker rule(s) and the page will load as expected.