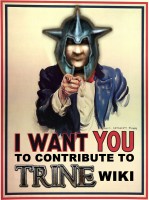 For ideas and examples, check out some of the big wikis. Here are some areas this one is lacking:
Details about Inventory Items
Information and tips for the Levels - locations of secrets, youtube links, etc.
Information about Enemies - which levels they occur on, tips to beat them, etc. todo: spiders
Organization - templates, categories, etc.
Design. It might be nice to come up with an appropriate theme.
A pretty front page.. here are some ideas
New pages!
Ad blocker interference detected!
Wikia is a free-to-use site that makes money from advertising. We have a modified experience for viewers using ad blockers

Wikia is not accessible if you've made further modifications. Remove the custom ad blocker rule(s) and the page will load as expected.