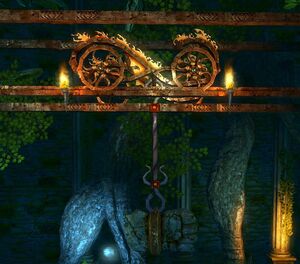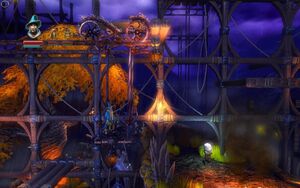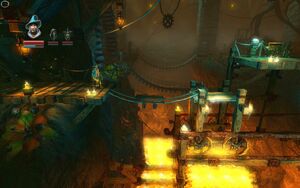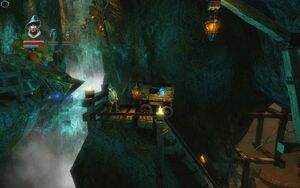 The Chariot is an obstacle that is sometimes encountered in the game.
The Chariot is a wheeled vehicle that runs on rails. It often has some sort of contraption like a Hanging Platform or a Fist hanging below the undercarriage that can be used for some special purpose. It is often part of a puzzle that has to be solved and sometimes incorporates things like a rope Bridge in the puzzle.
Most of the rails are quite short which means that the Chariots do not usually move a great distance. It is sometimes convenient or even necessary to travel along the rails on a Chariot, to be able to get to the next area to be explored.
There are three main types of moving Chariot vehicle:
The ornate type with a contraption hanging below, with or without a deck above.
The large tall unstable type made of beams with a large deck above.
The small mine cart.

Sometimes a Chariot will have a deck where Skeletons are stationed and if they are killed they can drop useful Pickup Items.
The Wizard is able to make all types of Chariot move along the rails by using his Levitation Ability. He can also control any contraption hanging below a Chariot. He is also able to connect a rope Bridge to some Chariots.
For a list of other types of obstacle see: Hazards
Ad blocker interference detected!
Wikia is a free-to-use site that makes money from advertising. We have a modified experience for viewers using ad blockers

Wikia is not accessible if you've made further modifications. Remove the custom ad blocker rule(s) and the page will load as expected.